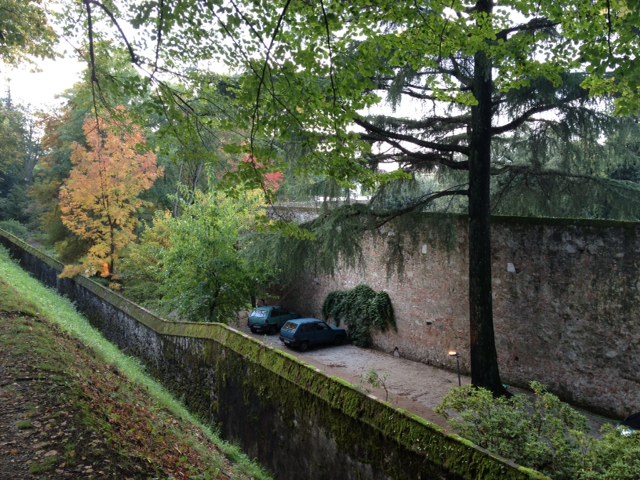 In the fall of 2013, Steph and I visited Florence Italy.  We were taking in the sights and visiting our oldest daughter, Mariah.  We had a fantastic week and I left with some valuable life lessons.  Here is one of those lessons.
Lucca, Italy is a city completely surrounded by a wall (several walls actually).  These walls are incredibly thick.  (I would estimate 60-70 feet in some places.)  From the top of the walls people walk and ride bikes around the perimeter of the city.  Inside, the city is tucked away, safe from harm and attack. In order for intruders to reach the city (not an issue today) they would have to go through an incredibly thick wall.  Should an attack take place, the people of the city had plenty of time to respond.  Most intruders would look at the wall and decide not to bother.  They would then turn their attention toward another city with less protection.
As Steph and I were riding around the top of the wall I was reminded of the importance of building walls around your life.  I'm not talking about hiding away from the big scary world. I am talking about guarding what is important.  Proverbs 4:23 says Above all else, guard your heart, for everything you do flows from it. You may think you have it under control.  You have it all together.  Nothing is going to take you down.  You are delusional.  You need to build some walls around your life.
For example, when I gave my heart and life to Steph, I began to put up a wall around my heart.  No other woman is to come across the wall into my heart.  Here is how that looks:
I am not alone in a car with a female.
My office door is has glass in it so that I am never behind closed doors with anyone.
I do not share deep conversations about the state of my heart with other women.  This can lead to an emotional heart connection.  (For more thoughts on this, check out this great article by Holly Gerth.)
My computer (a laptop) is seen at any time by our Administrator, IT company, my wife, and daughters.
IF I tex or email t a woman it is business only.
All of my social media communication is open to my wife (and just about anyone who asks).
This is just one example of an area that I needed to protect.  There are other areas of our heart that we need to protect as well.  I would love to hear how you are protecting some areas around your heart.  Share your ideas, most of us can use some help in this area.