After hours of writing, editing and formatting, I am excited to announce the release of Worship Leading Essentials: A Step by Step Guide for Leading Worship.
Worship Leading Essentials is a 70-page ebook designed to help worship leaders lead with greater impact. This step-by-step guide is a collection of lessons I have learned while leading worship for the past 20 years.
Worship Leading Essentials addresses such topics as  . . .
Personal spirituality
How to deal with band conflict
How to put together a set list
How to set monitors (quickly)
How to leverage criticism
Much more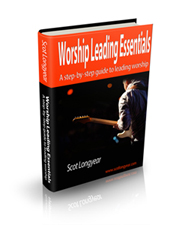 This 20 chapter ebook is a revised collection of blog posts.  Several worship leaders have found this information useful and practical. Whatever your level of worship leading, Worship Leading Essentials is a step-by-step guide to making you a more effective worship leader.